The Cement Party; the time-honored tradition that unites members of the Adisadel College fraternity; both past and present; is to be held outside the prestigious campus for the first time ever!
Wondering what the fuss about The Cement Party is all about? Jamie says…
As earlier hinted; The Cement Party is an event that helps to unite all generations of Santaclausians together. This is where all gather and share in the consumption of gari soakings (a popular Ghanaian beverage or snack; consisting of Gari, Sugar, water, and also Milk, with the occasional groundnuts). As a matter of fact; this is done to honor the dedication shown by the students who helped to construct our fabled dining hall, and would then proceed to have lunch; gari soakings in their headpans.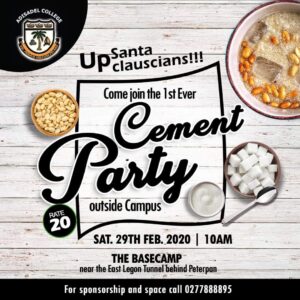 This unique edition is being held on Saturday the 29th of February 2020 at the BaseCamp; located near the East Legon Tunnel, and it starts from 10 am. This Cement Party would cost you a cool 20 cedis on the day; which in my opinion is a small price to pay for not only reconnecting with old chums, but also taking advantage of the opportunity to forge new relationships!
In conclusion…
To all Santaclausians and other associated members of the Adisadel family; I implore us to turn up in our numbers and make some memories! And as always; keep interacting and connecting with The Brew Show; as I also truly appreciate all of your feedback as well as your support. Thank you, and again, I'll see you next Saturday!