FC Barcelona has been one of the most dominant football clubs in the 21st Century; with the Catalan giants amassing 4 Champions League titles in the last 15 years. However; with the Blaugrana not only failing to win old Big Ears since 2015 but also following their harrowing 8-2 defeat at the hands of Bayern Munich last night… Is this the end of an era?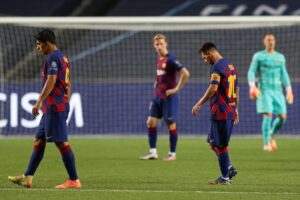 Is Barca's time up? Jamie says…
Empires rise and also fall. As a unit; both the Barca '11-13 and Barca '15 sides were a pure delight to watch. But the core of both those sides; namely Gerard Pique, Sergio Busquets, and arguably the greatest player in the world; Lionel Messi are past their peak; and as a result, their collective prowess is waning. Combine that with the fact that Barcelona has failed to properly replace key members from their dominant sides, and it's clear to see that the writing has been on the wall for a while now!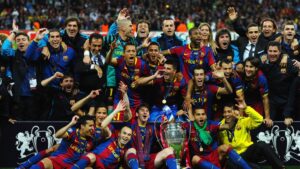 Can FC Barcelona recover? Is this only the beginning?
If the club is going to address this slump and be a force to reckon with once again in the UEFA Champions League; then in my humble opinion, they need to find a way of letting the club's politics affect the guy's on the pitch. Additionally; if they truly want to avoid the recent fates suffered by Manchester United, and also AC Milan; then they'd need to make smarter decisions when replacing not only their talent but also when hiring their coaches (or managers).
I hope you enjoyed the story; and as always, keep interacting with The Brew Show, I always appreciate your feedback. Enjoy your weekend everyone!