Following the success of its interactive Q&A session with 100KforGhana earlier in April, The Sound Of Accra is pleased to announce that it will be hosting another session later this month with Eco-Amet Solutions for A Greener Ghana.
A Greener Ghana? What exactly does The Sound Of Accra and Eco-Amet Solutions have in store for us? Well, Jamie says…
If you've come across Eco-Amet Solutions via either their social media platforms or indeed their website, then you should be familiar with the brand and their desire to solve environmental issues in Ghana and beyond in wastewater treatment, solid waste management, among other things. The Sound Of Accra, and their founder Adrian Daniels, will surely seek to allow the general public to pick the brain of the co-founder of Eco-Amet Solutions, David Ewusi-Mensah, and find out how we can all come together to save our country, and by extension the planet!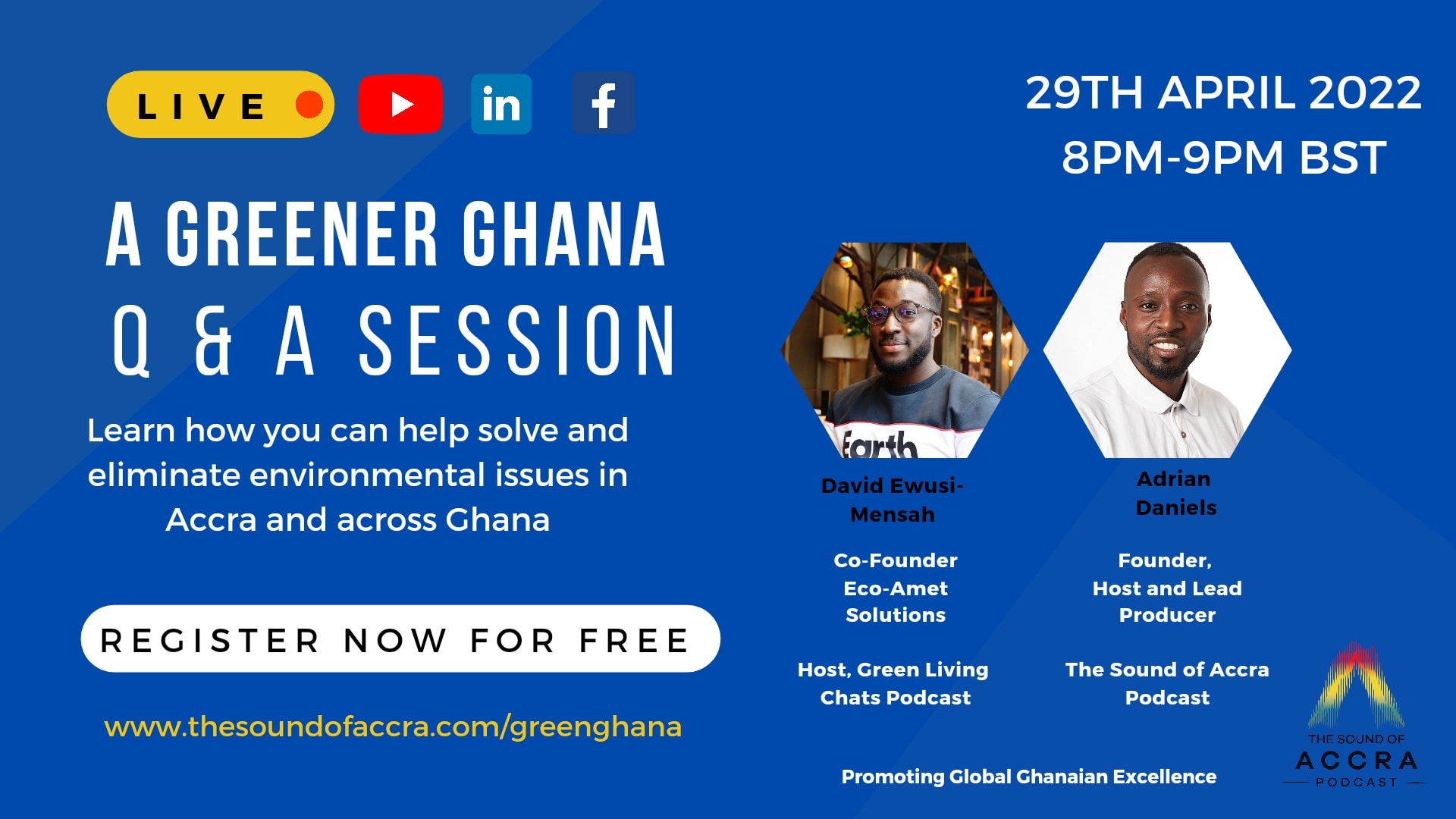 David is also the host of the Green Living Chats Podcast, a platform that supports startups, workshops, webinars, awareness projects, research projects, and many other environmental-related initiatives; with the goal of creating awareness and bridging the gap between R&D-industry, awareness/education-public, entrepreneurs-investors, and more!
How can we join the discussion? And how do we follow each platform?
The interactive Q&A session is on Friday the 29th of April 2022 and will start from 7 PM GMT. To register for the event, all you have to do is click on this link!
You can follow The Sound of Accra podcast by either visiting the website here, or alternatively by visiting their Linkedin, Facebook, Twitter, Instagram, Youtube, Deezer, BuzzSprout, Stitcher, TuneIn, Soundcloud, Spotify, Apple Podcasts, and Google Podcasts channels as well.
Eco-Amet Solutions are also on Facebook, as well as YouTube, Instagram, and Linkedin.
Thanks for reading the article, and let's get interactive!
The Brew Show wishes each and every one of you a fabulous year full of excellent health, peace of mind, and success beyond your wildest dreams! I'd once again like to express my immense gratitude to all who've helped us along the way, especially my family, circle of friends, and my SantaMoga network!
As always, please connect and also interact with The Brew Show on our Facebook, Twitter, YouTube, LinkedIn, and Instagram platforms. Thank you all for your time, and have a great year guys!!!