Happy Eagle Tourism Management would like to humbly invite the general public to their Volta Timeout event as they aim to entice happy goers who are yet to finalize their plans for the long holiday ahead!
Which sites are part of the Volta Timeout experience from Happy Eagle Tourism Management? Well, Jamie says…
The Volta Timeout, which is expected to run from the 30th of April 2022 till the 2nd of May 2022, will see patrons visit not only Ghana's highest point, Mt. Afadjato, but also the Wli Afa Falls and the Monkey Sanctuary. There are also trips to a snake farm, as well as a borborbor and bonfire night, karaoke, and Ewe snacks cooking practice session to look forward to.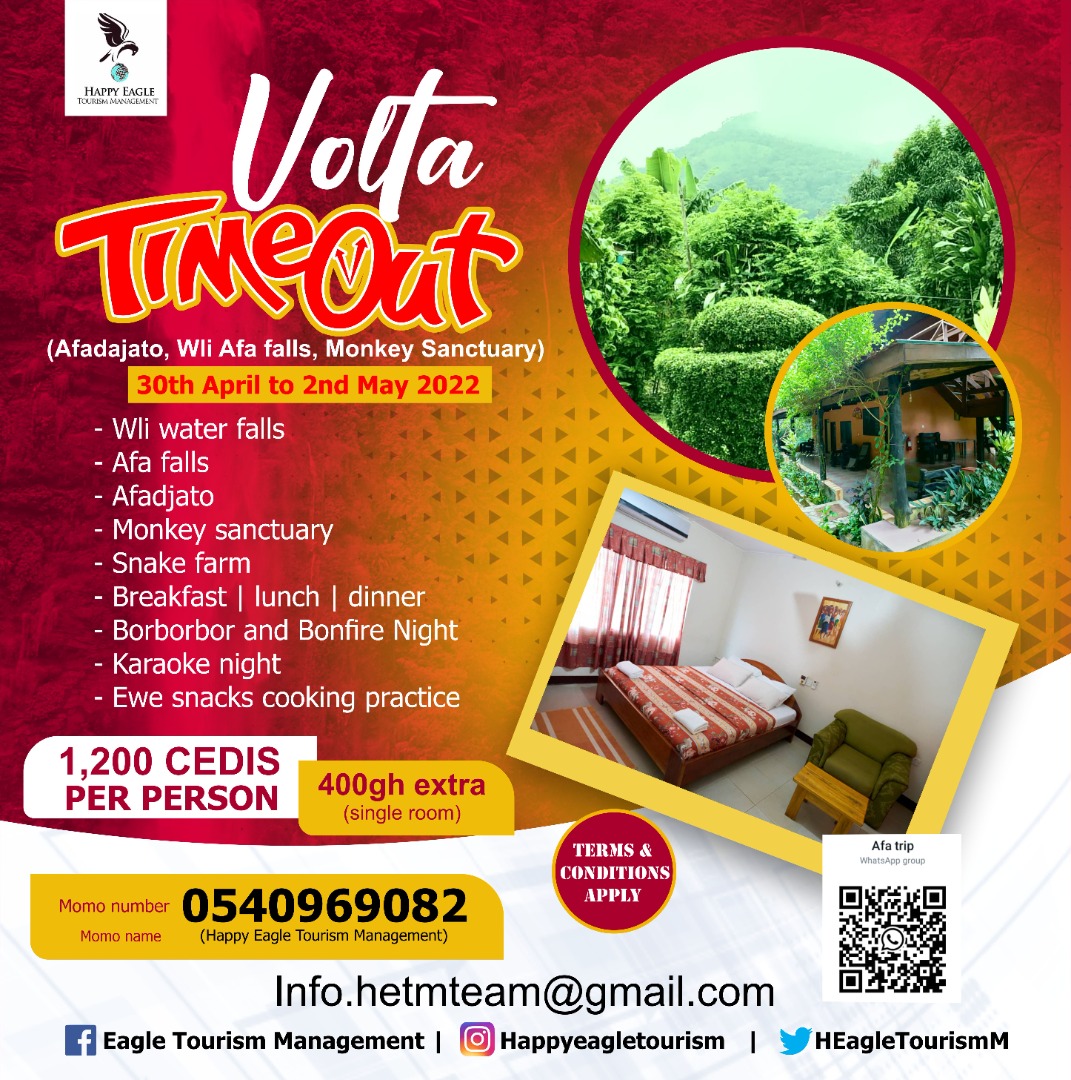 The cost of the trip is GH₵1200 per person, but should you choose to book a single room during the trip, then you can secure it for an extra GH₵400. Terms and Conditions apply, so be sharp and contact +233(0)540969082 to secure your seat.
Wishing to connect?
You can definitely connect with Happy Eagle Tourism Management via their Facebook, Instagram, and Twitter channels!
In other news, congratulations to Happy Eagle Tourism Management for winning the 1st Sauder lift entrepreneurship pitch competition organized by the University of British Colombia on Saturday! More grease to your elbow, and keep soaring to new heights!
Thank you all for the time to read the article!
The Brew Show wishes each and every one of you a fabulous year full of excellent health, peace of mind, and success beyond your wildest dreams! I'd once again like to express my immense gratitude to all who've helped us along the way, especially my family, circle of friends, and my SantaMoga network!
As always, please connect and also interact with The Brew Show on our Facebook, Twitter, YouTube, LinkedIn, and Instagram platforms. Thank you all for your time, and have a great year guys!!!