This year's edition of the Breakfast Business Conference; presented by the ABEI Agency; is set to take place this Saturday; the 30th of January 2021 at the Thoesis Corpus Auditorium in Kokrobite.
Who is expected to speak at this Breakfast Business Conference? Also, is there a theme?
This edition is being graced by Mr. Asante Afriyie, the CEO of Afriyie Wealth; who's headlining the conference as its main speaker. In addition; he'd be ably supported by not only Rev. Courage Awayewu; the presiding pastor of Theosis Corpus, but also Mr. Oheneba N.Y. Ofori; a trainer and journalist. Also on the bill are Messrs. Emmanuel Kusi; the founder of ABEI Agency, as well as Benjamin Dezutt; who is not only a chartered accountant but also an international business and marketing expert.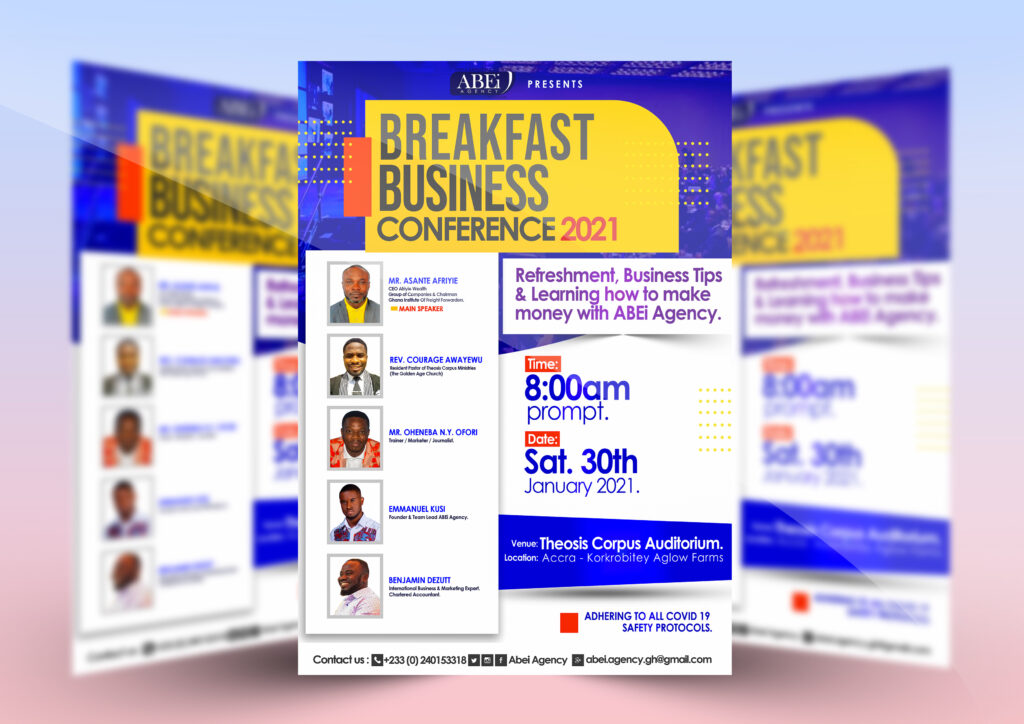 In light of this; it is also worth noting that the event's theme is refreshment, business tips, and learning how to make money with ABEI Agency. The conference is scheduled to also commence at 8 am.
Is there also anything else of note? Well, Jamie says…
In any event; the general public is reliably informed that all covid-19 protocols; would be strictly and also safely adhered to. I hope you enjoyed this article, and as always; I encourage you to also freely interact with The Brew Show on our Facebook, Twitter, Linkedin, and also YouTube social media channels. Remember to stay safe, and also ensure you end the month on a positive note!