Fitness brand E-Fitness Gh is teaming up with Crestin Nutrition tomorrow to show people just how to not only remain healthy but also shed those excess pounds off!
What do we know about both E-Fitness Gh and also Crestin Nutrition? And how do we tune in? Jamie says…
E-Fitness Gh is a Ghanaian fitness and lifestyle brand founded and also managed by Eric Kwesi Darko; an athletic and fitness trainer.
Crestin Nutrition; on the other hand; is a company located in Gbawe, Accra, who are aiming to provide a holistic approach in managing nutrition-related non-communicable diseases and promoting healthy lifestyle.
This team-up by these two health and fitness-oriented brands is resulting in an interactive session; to be streamed on not only Zoom but also Facebook Live, where you're going to work out the right way with Eric, as well as being fortunate to receive education on the right diet and nutrition for your body! The event commences at 6 pm on Saturday the 20th of February 2021; all things considered!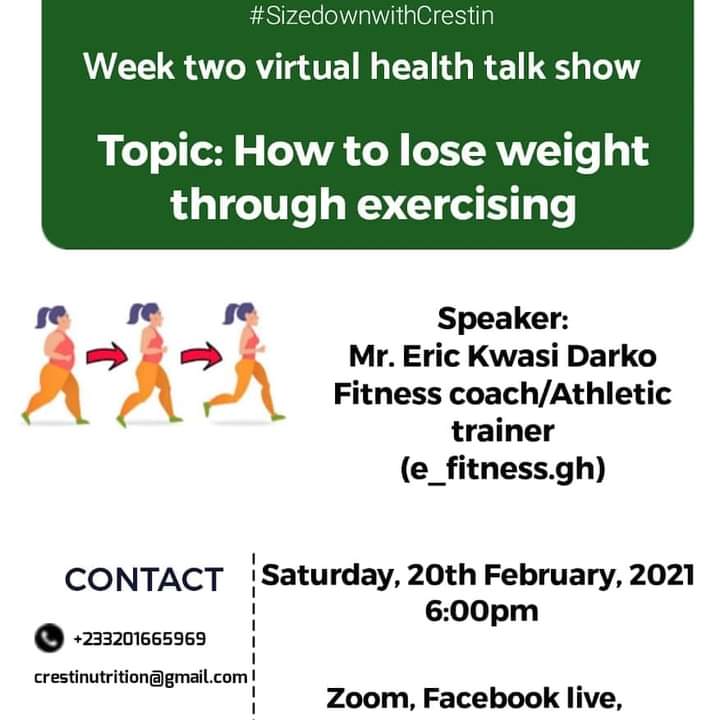 How are we following both brands?
You can connect with E-Fitness Gh on both Facebook and Instagram. Alternatively, Crestin Nutrition can be found on not only Facebook but also on their Twitter, as well as YouTube and Instagram channels. In addition; you can visit their website here (it's under construction as of the time of writing). In light of this, I hope you all have fun and participate in this fitness session tomorrow. As always, kindly interact with The Brew Show by leaving a few comments under your favourite posts, remember to share them with your friends; if you enjoyed them, and interact with us on our Facebook, Twitter, Linkedin and YouTube social media channels. Have a great weekend everyone!