The Little Tokens Foundation has plans to change the face of the country in its own small way; starting by holding a unique fundraiser in a bid to help a particular school fully embrace the digital world.
Wondering who the Little Tokens Foundation fundraiser plans to help? Jamie says…
After its establishment in 2019… The foundation; founded and led by Kwame Osei-Asante went straight to work; immediately adopting the Nuhalenya D/A Primary School in Ada and also assisting them by not only providing school desks, teaching, and learning materials but also renovating their classrooms among other things. That being said; the fundraiser aims to take it up another notch; by building both a library and also an ICT center for the school!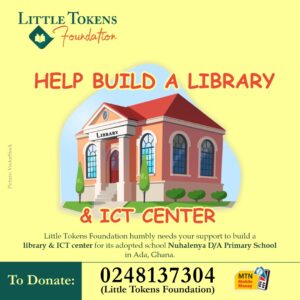 Wish to support?
You can also support the Little Tokens Foundation's initiative; by either donating to 0248137304 via Mobile Money or by also clicking and contributing to the GoFundMe link listed here! Alternatively; you can visit their Instagram. I do hope we all contribute to this beautiful project; and as always, keep reading and interacting with The Brew Show. Thank you and have a great weekend.