The Black Star International Film Festival (BSIFF) has officially unveiled the films selected for this year's edition of the prestigious event.
Wondering which films made the cut for BSIFF this year? Well, Jamie says…
The list of films selected for BSIFF 2022 is as follows:
Short Film Category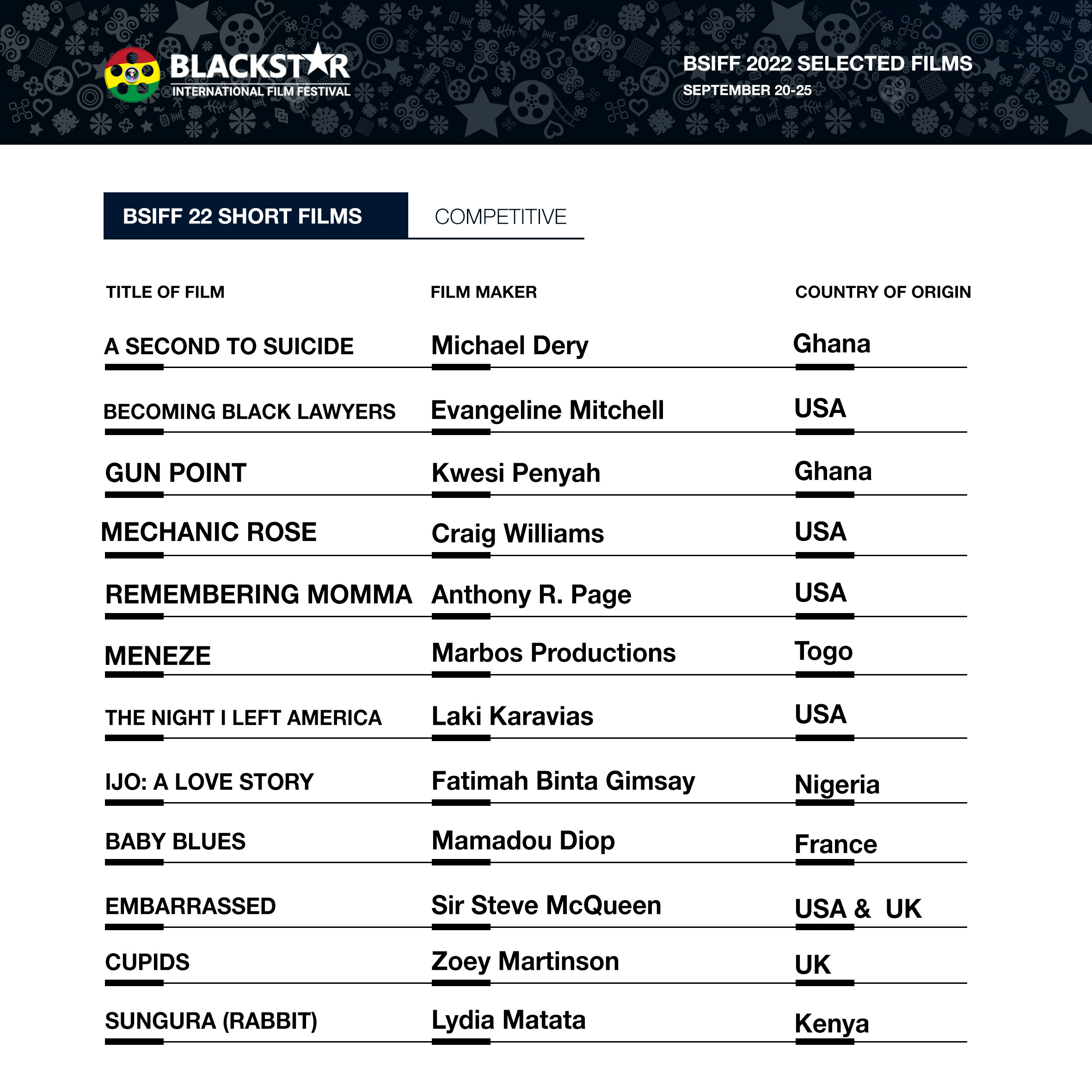 We have A Second To Suicide (Michael Dery), and Gun Point (Kwesi Penyah) from Ghana, and they're joined by Ijo: A Love Story (Fatimah Binta Gimsay) from Nigeria, Baby Blues (Mamadou Diop) from France, Cupids (Zoey Martinson) from the UK, Sungara (Rabbit) (Lydia Matata) from Kenya, Meneze (Marbos Productions) from Togo, Embarrassed (Sir Steve McQueen) from both the USA & the UK, and The night I left America (Laki Karavias), Remembering Momma (Anthony R. Page), Mechanic Rose (Craig Williams), and Becoming Black Lawyers (Evangeline Mitchell) all from the USA.
Student Film Category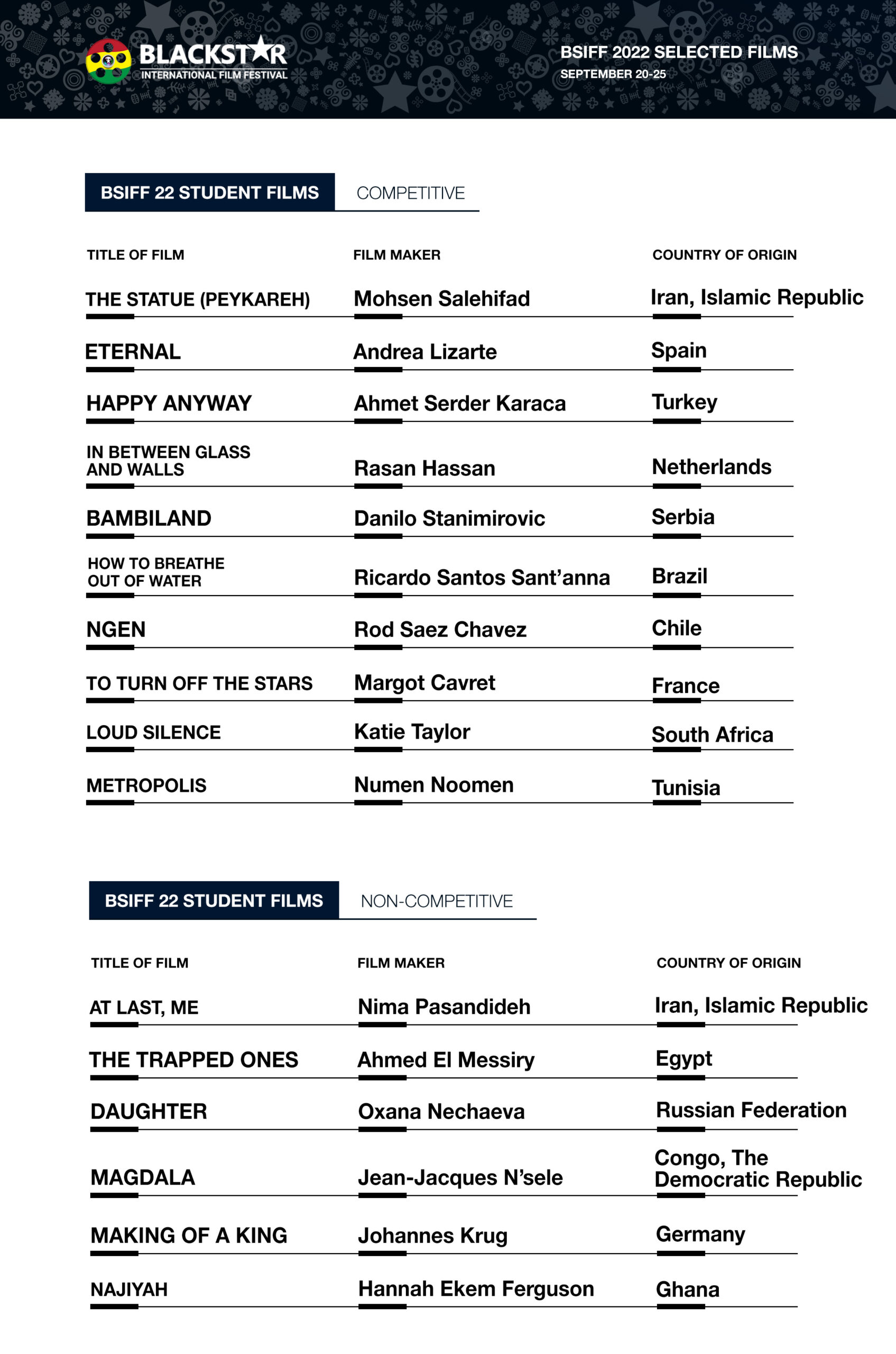 Competitive
This category will see competition from The Statue (Peykareh) (Mohsen Salehifad) from The Islamic Republic of Iran, Eternal (Andrea Lizarte) from Spain, Happy Anyway (Ahmet Serder Karaca) from Turkiye, In Between Glass and Walls (Rasan Hassan) from The Netherlands, Bambiland (Danilo Stanimirovic) from Serbia, How To Breathe Out Of Water (Ricardo Santos Sant'anna) from Brazil, Ngen (Rod Saez Chavez) from Chile, To Turn Off The Stars (Margot Cavret) from France, Loud Silence (Katie Taylor) from South Africa and Metropolis (Numen Noomen) from Tunisia.
Non-competitive
Here, we'll see films such as At Last, Me (Nima Pasandideh) from The Islamic Republic of Iran, The Trapped Ones (Ahmed El Messiry) from Egypt, Daughter (Oxana Nechaeva) from Russia, Magdala (Jean-Jacques N'sele) from DR Congo, Making Of A King (Johannes King) from Germany and Najiyah (Hannah Ekem Ferguson) from Ghana.
Feature Film Category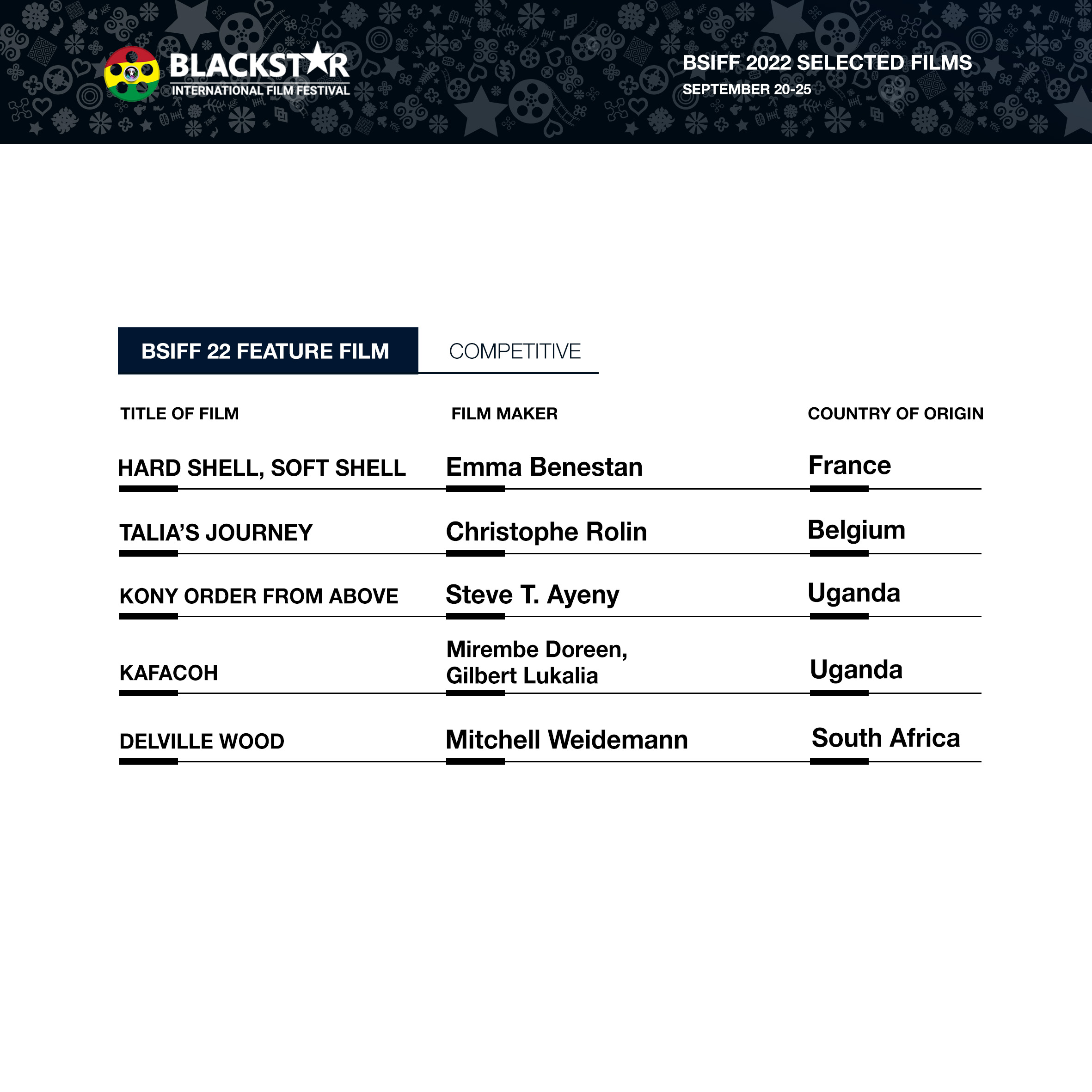 This Category has Hard Shell, Soft Shell (Emma Benestan) from France, Talia's Journey (Christophe Rolin) from Belgium, Kony Order From Above (Steve T. Ayeny), and Kafacoh (Mirembe Doreen, Gilbert Lukalia) both from Uganda and Delville Wood (Mitchell Weidemann) from South Africa.
Women In Film Category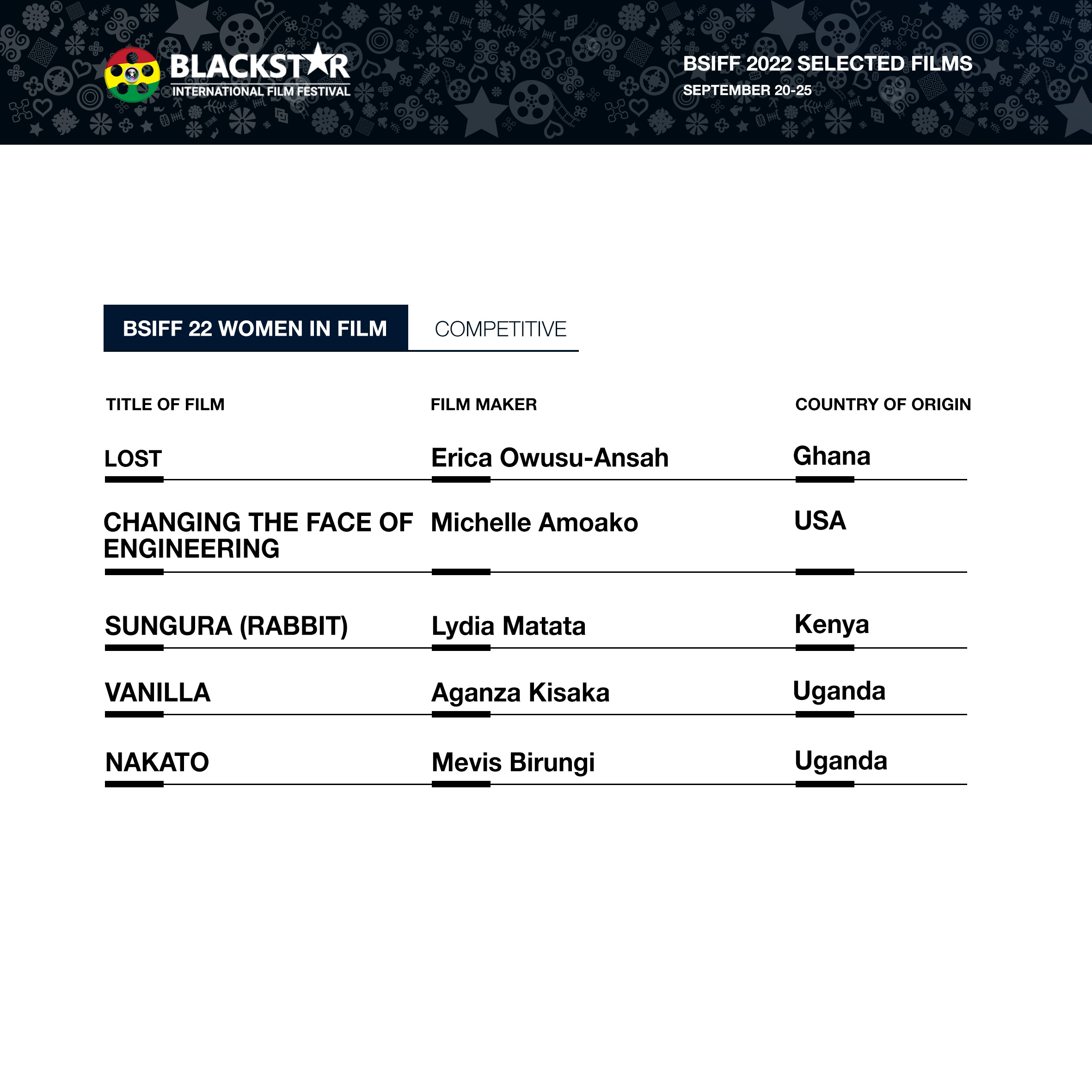 This category has Lost (Erica Owusu-Ansah) from Ghana, Changing The Face Of Engineering (Michelle Amoako) from the USA, Sungara (Rabbit) (Lydia Mateta) from Kenya, and both Vanilla (Aganza Kisaka) and Nakato (Mevis Birungi) from Uganda.
Documentary Category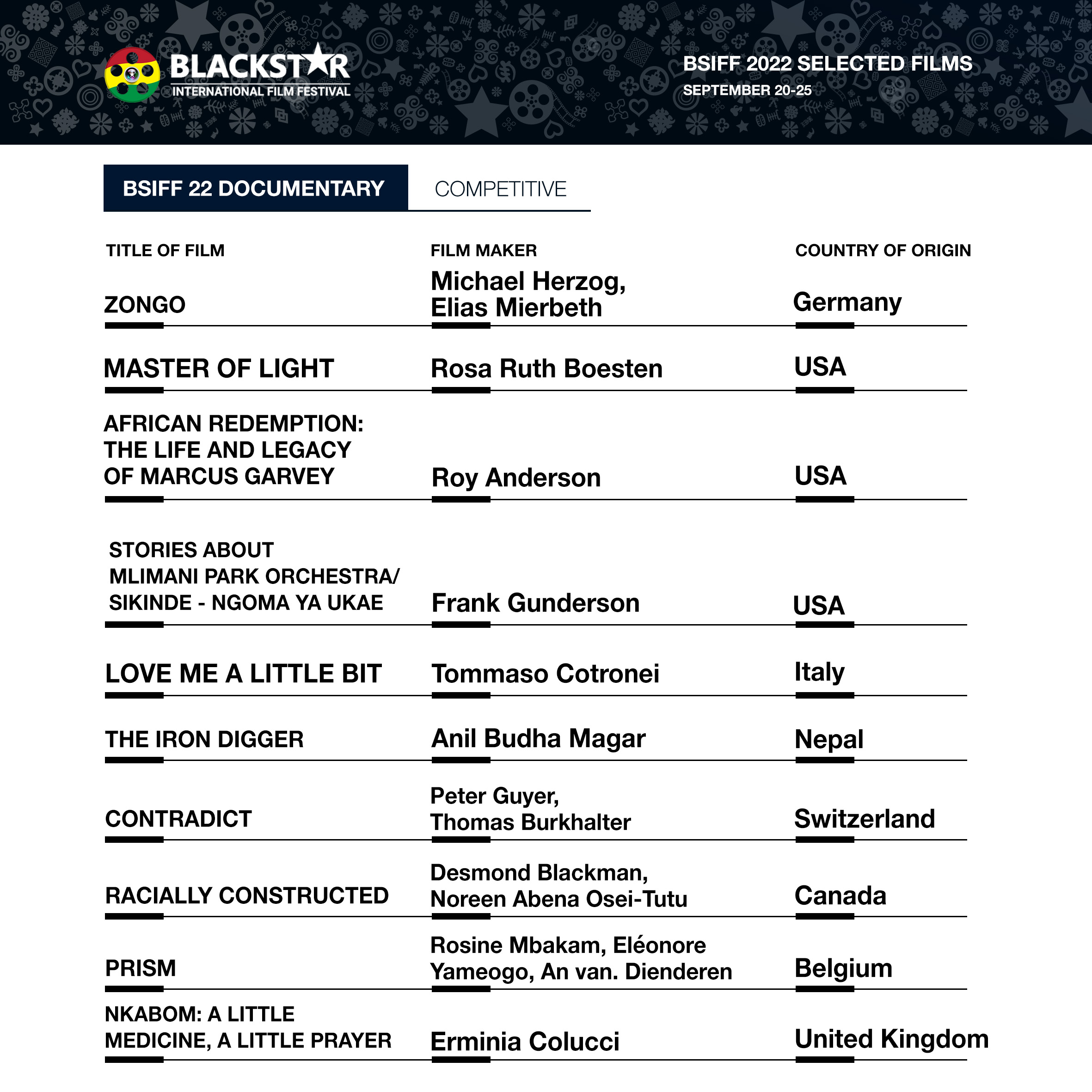 The Documentary category contains Zongo (Michael Herzog; Elias Mierbeth) from Germany, Master Of Light (Rosa Ruth Boesten) and African Redemption: The Life and Legacy of Marcus Garvey (Roy Anderson), and Stories About Mlimani Park Orchestra/Skinide – Ngoma Ya Ukae (Frank Gunderson) all from the USA, Love Me A Little Bit (Tommaso Cotronei) from Italy, The Iron Digger (Anil Budha Magar) from Nepal, Contradict (Peter Guyer; Thomas Burkhalter) from Switzerland, Racially Constructed (Desmond Blackman; Noreen Abena Osei-Tutu) from Canada, Prism (Rosine Mbakum; Eleonore Yameogo; An Van; Dienderen) from Belgium and Nkabom; A Little Medicine, A Little Prayer (Erminia Colucci) from The UK.
Animated Film Category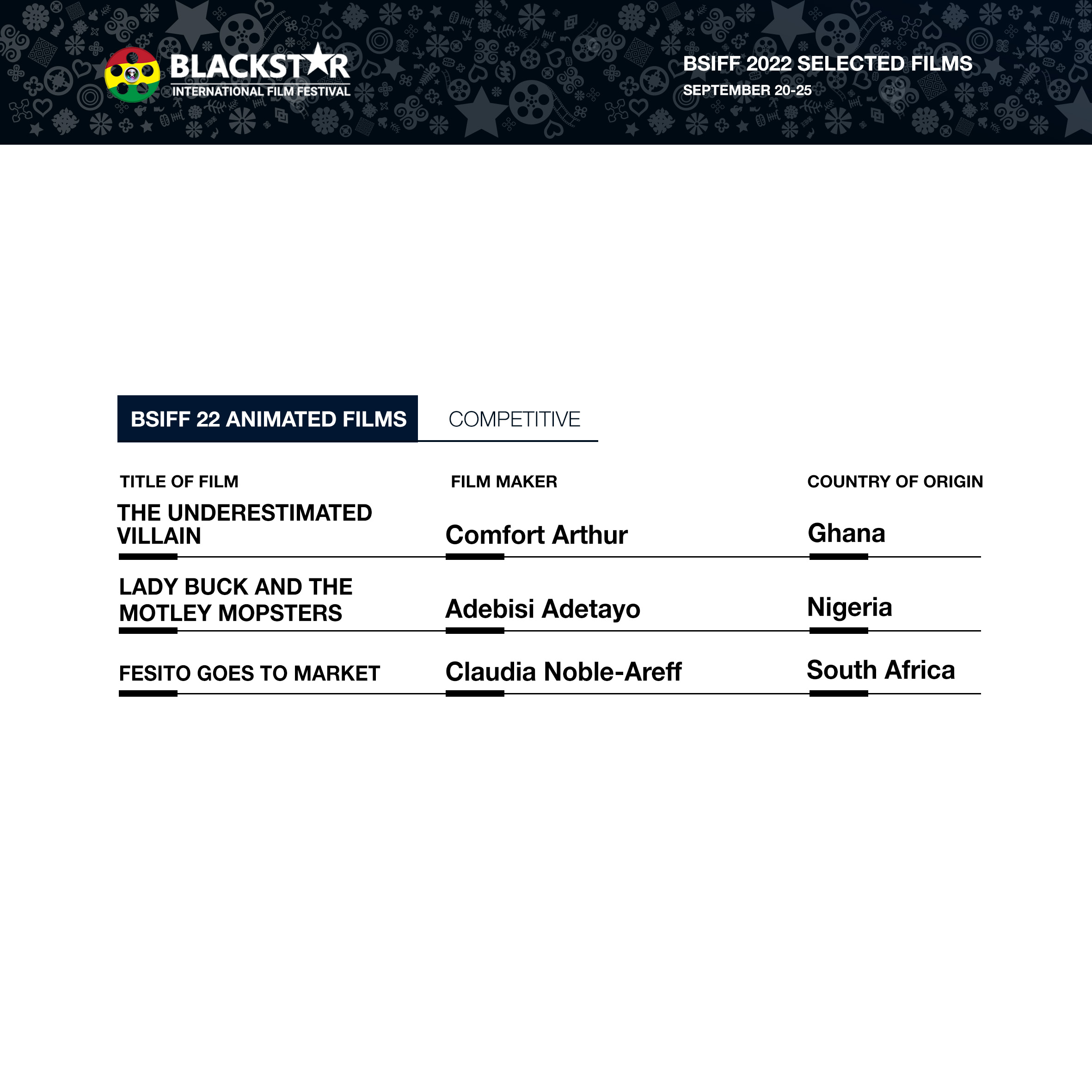 A newcomer to the list, the animated category will be contested between The Underesterimated Villain (Comfort Arthur) from Ghana, Lady Buck and The Motley Mopsters (Adebisi Adetayo) from Nigeria and Fesito Goes To Market (Claudia Noble-Areff) from South Africa
Africa Rising Category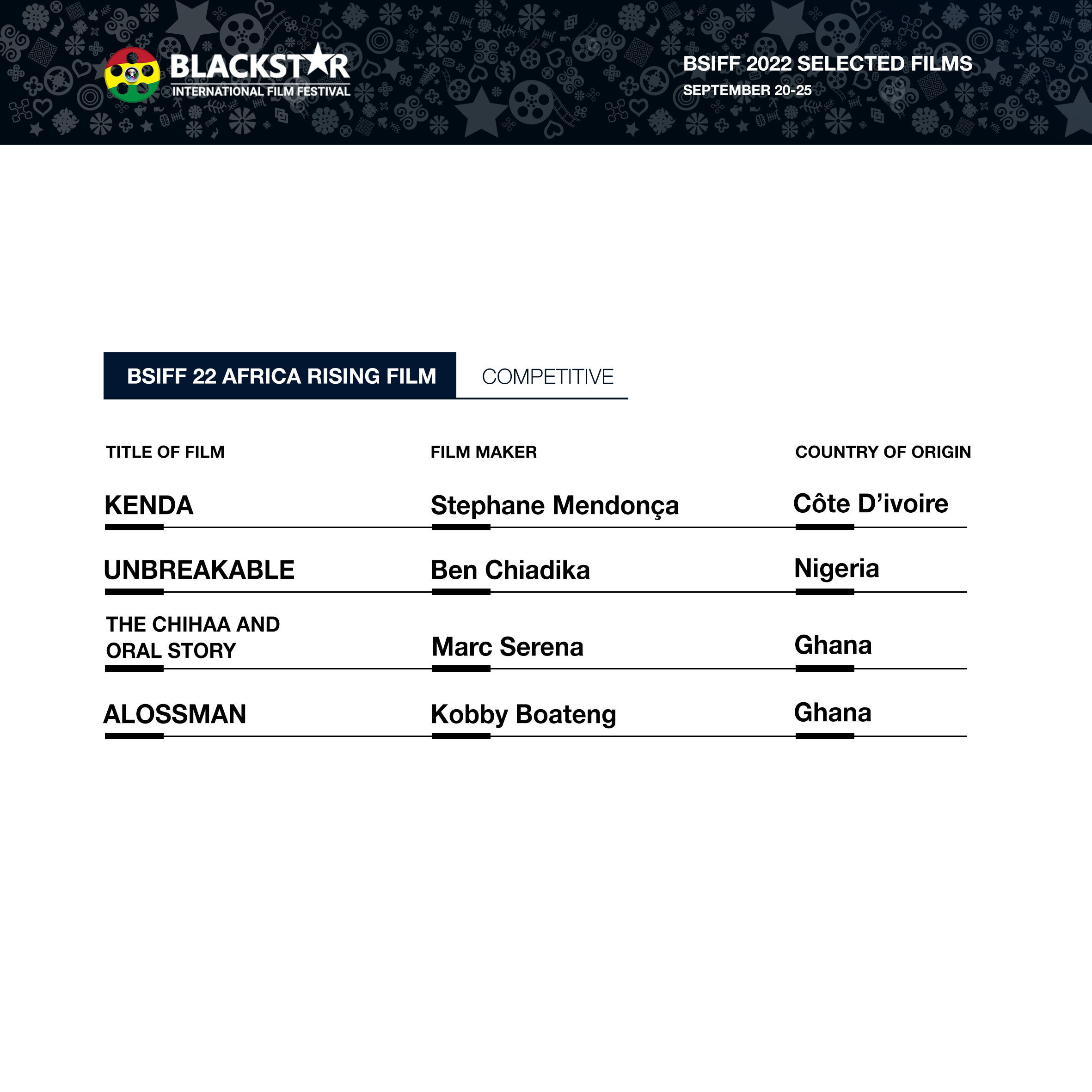 The final category will be contested between Kenda (Stephane Mendonca) from the Ivory Coast, Unbreakable (Ben Chiadika) from Nigeria, and both The Chihaa And Oral Story (Marc Serena) and Alossman (Kobby Boateng) from Ghana.
When would BSIFF 2022 take place?
The 7th edition of the Black Star International Film Festival (BSIFF 2022) will take place from the 20-25th of September 2022. The Black Star International Film Festival (visit their website here) is a not-for-profit festival, with the vision to position Ghana as a film tourist destination. In addition, the festival; which was established in 2015; also seeks to bridge the gap between African cinema and the rest of the world; as well as also create global connections through film. You can connect with the Black Star International Film Festival (BSIFF) via their Facebook, YouTube, Instagram, Linkedin, and also Twitter social media channels.
Thanks for reading the article, and may the best films win!
The Brew Show wishes each and every one of you a fabulous year full of excellent health, peace of mind, and success beyond your wildest dreams! I'd once again like to express my immense gratitude to all who've helped us along the way, especially my family, circle of friends, and my SantaMoga network!
As always, please connect and also interact with The Brew Show on our Facebook, Twitter, YouTube, LinkedIn, and Instagram platforms. Thank you all for your time, and have a great year guys!!!