As a creative talent; have you been constantly thinking about how to get that big break or chance to showcase your talent and gain some new fans? Well, good news guys, Christmas has come early for you; because Alexis Laura Daniels and the E.N.T Hub (remember them? No? Well then click here) present their 2nd Open Mic Night this September! This is an event aimed at providing upcoming musicians and spoken word artists with a platform to showcase their talent!
When and where is this edition of the Open Mic Night by E.N.T Hub going to be held? Well, Jamie says…
The second edition of the E.N.T Hub open mic night is slated for the 19th of September 2019; with the venue being the BBNZ Live Bar on the Stephen Amartey Close in Osu. The time for the event is from 7 pm and would cost you a cool 15 cedis. (which in turn gets you a complimentary drink). Trust me when I say you'll definitely be getting your monies worth on the night.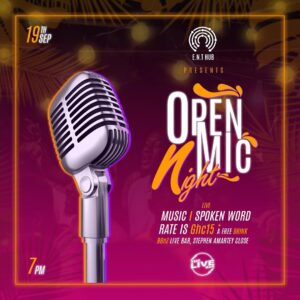 Who else is on the bill for the event?
In addition to all the eager spoken word artists, and also the talented musicians whom we expect would want to seize the moment; there would also be guest appearances and performances from not only Yung Pabi (who we have a story on here; but also Jason El-A, Tazer Koree, Eddie Khae, and Supa Gaeta. In any event; this edition of the E.N.T Hub open mic night promises to be an extremely memorable occasion. I really hope to see you all there at the open mic night! Now let's have some fun, shall we!