In a bid to not only reconnect with old friends but also forge new connections; the organizing committees of the 2008 year groups of some of Ghana's most prestigious second-cycle institutions; namely Adisadel College, Mfantsipim School, Accra Girls Senior High, Bishop Herman Senior High, St. Thomas Aquinas, St. Roses Senior High, St. Peter's Senior High, Pope John Senior High and Minor Seminary, Krobo Girls Senior High, Koforidua Secondary Technical, OLA Girls Senior High, Accra Academy, Presec, Mfantsiman Girls, Tema Secondary School and St. Mary's have joined forces and collectively launched their " '08 Interco Reloaded" event.
What should we expect from the '08 Interco Reloaded? Jamie Says…
This year's event, which happens to be its second edition, following last year's success; would be a hybrid affair. In addition to the fun games; there would not only be a cooking competition but also provisions have been made for a health screening for all alums of the participating schools.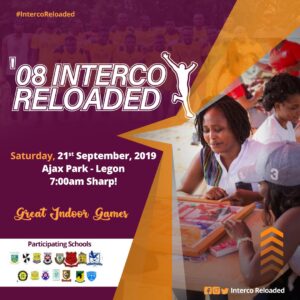 When and where would the event be held?
The '08 Interco Reloaded would be held on the 21st of September 2019 from 7 am at Ajax Park in Legon, Accra. All roads will lead to Accra as part of September's holiday weekend package, so don't miss out! Additionally, you would be best served to look for #intercoreloaded or #08intercoreloaded on your Facebook, Twitter, and Instagram for more information.
Thank you for the time guys
The Brew Show wishes each and every one of you a fabulous year full of excellent health, peace of mind, and success beyond your wildest dreams! I'd once again like to express my immense gratitude to all who've helped us along the way, especially my family, circle of friends, and my SantaMoga network!
As always, please connect and also interact with The Brew Show on our Facebook, Twitter, YouTube, LinkedIn, and Instagram platforms. Thank you all for your time, and have a great year guys!!!