Who's ready for a link-up? Well, guess what?; All roads on the 6th of July 2019 would converge at the Eastgate hotel in East Legon for the 2nd edition of the E.N.T Hub exhibition.
What is the E.N.T Hub exhibition about?
The E.N.T Hub (visit their website here) is a group consisting of entrepreneurs and entertainers alike; established to create better networks and to positively impact and empower the youth. The exhibition aims to bring us a step closer to achieving this through its theme; "The Power of Social Media".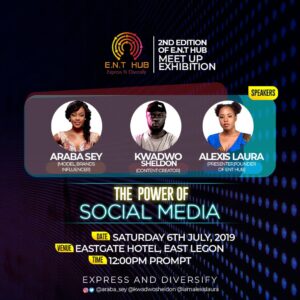 The event; which is scheduled to take place from noon that day; would be masterfully hosted by David Quaye, also known as MC Breezy; and also graced in the capacity of speakers by;  Laura Alexis Daniels, presenter and also the founder of E.N.T Hub; not to mention Araba Sey, brand influencer and model; as well as one of Ghana's most distinguished content creators; Kwadwo Sheldon! In addition; entrepreneurs who seek to promote the services of their brands; can book a stand for the exhibition by calling this number; 0553807129 for more information and availability.
Jamie says…
It's the ideal place for startups and upcoming creatives to build up strong networks to not only give them a strong footing but also catapult them to the next level. I hereby encourage all who can participate to do so. In the words of the E.N.T Hub; remember to "Express and Diversify".