Yearning for that glorious summer bod? Well, now the time has come to whip yourself into shape; thanks to the fitness event of the season; the Beach Body Camp!!!
What is the Beach Body Camp about; and when is it?
The brainchild of Helen Appiah Ampofo (@ordinaryfitgirll) and Lauretta Evans-Anfom (@miss_Lauretta); the beach body camp 2019 is an exercise event; which is being targeted at the beginner to intermediate fitness enthusiasts. As a matter of fact; prepare to have fun; learn new moves; challenge your body and also rejuvenate your soul. Sounds like a plan; am I right? I
t's going to be an hour-long program; slated for the 22nd of June, 2019 and would be held at the Rehab Beach Club in Labadi, Accra. It's going for a cool 35 cedis for singles, and doubles can also get in on the fun for only 60 cedis. The fitness event is ably supported by both Obolo Diaries and also Green Eats; in addition to some amazing prizes being won on the day; as well as great nutritious food!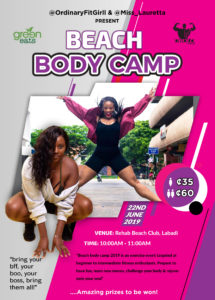 P.S. Due to the amazing turnout on the 22nd; the organizers would be back again on the 29th of June 2019 and every other Saturday after that, and this time it's free! follow this link for more details on booking your spot.
Jamie says…
This is a great way to stay healthy; likewise, interact with loads of new people; while also equally getting more people inspired! To the organizers; I say more grease to your elbows; and may this also be a permanent fixture on many people's calendars for years to come!
Thank you for reading the article!
Hope you all enjoy your stay on The Brew Show!