Ghanaian Hip Hop star, Wan-O; is dropping what promises to be a huge banger this week; with his eagerly anticipated track Boozen; which also features Ghana's favorite twin act DopeNation.
Why do I proclaim Boozen as a pre-released hit? Jamie says…
On this song; Wan-O once again teams up with the extraordinary Konfem for the production of the song (I previously wrote about them working together on this song). And having had the pleasure of listening to it; I can easily declare it as a definite jam with Ghanaians; because it not only highlights the lyrical prowess of Wan-O as a rapper, but also projects the unique style and creativity of DopeNation as well. In short; it's a song that should keep hip-hop lovers happy for a long time as we wrap up 2019.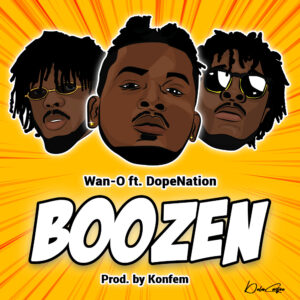 When is the song being released?
Wan-O drops Boozen on the 31st of October 2019; which coincidentally also happens to be his birthday. Additionally, as a token of appreciation to his fanbase; they would be the early recipients of the song; with the rest having to wait a little longer for the 2nd of November 2019 to listen to this masterpiece. Happy listening everyone! Oh, and I'm really looking forward to watching people do the #boozenchallenge on social media