Pyper Records' very own Kwachie Adie released the eagerly anticipated visuals to his hit song; Elikplim, and it was truly worth the wait.
Wondering what the Elikplim story is? Jamie says…
Produced by EarDrum Beatz, and furthermore mixed by Liquid Beast; Elikplim is essentially a story of Kwachie finding the woman of his dreams and expressing his love and admiration for her. He's not alone on the track; as he's not only featuring rap genius Obibini; but also fast rising act Fameye on this masterpiece.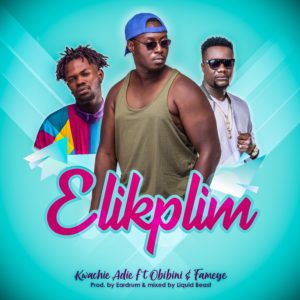 Now; about the video and how can we interact with Kwachie Adie and the other artistes?
The Elikplim video was beautifully captured and produced by YawwGADO. You can follow Kwachie Adie on his social media;  Facebook, Youtube, Instagram, and also Twitter. Similarly, you can also do so for Obibini; on his Instagram, Twitter, Youtube as well as Facebook. Likewise; Fameye is also present and active on his social media; which are Youtube, Instagram, Facebook, and finally Twitter. As a special treat for all of you, especially members of Kwachiedom; you can watch the Elikplim video here! Happy viewing everyone and keep looking out for The Brew Show!