Following the successful release of his maiden EP; R.W.M.O.H (Running With Men On Horses); Yung Pabi is set to put the icing on the cake by thrilling his fans and fellow music lovers with his R.W.M.O.H – The Concert!
When, and where would the R.W.M.O.H – The Concert be held?
The concert would take place at the renowned Serallio open bar and restaurant; in Osu on the 26th of October 2019, from 7 pm. Furthermore; the rate is going for a cool 30 cedis!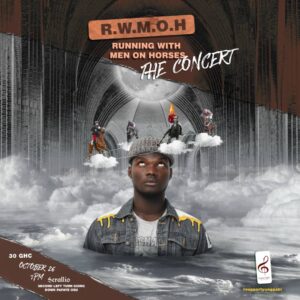 Why should we attend? Jamie says…
After bearing witness to the unique depth of creativity Yung Pabi possesses (you can also check out the EP's tracklist from this previous story by yours truly); I can confidently say that anyone and everyone who attends is going to get their monies worth and more! Additionally; we're not only going to be entertained by the man of the moment but we're also practically guaranteed a few lovely surprise performances at the concert as well.